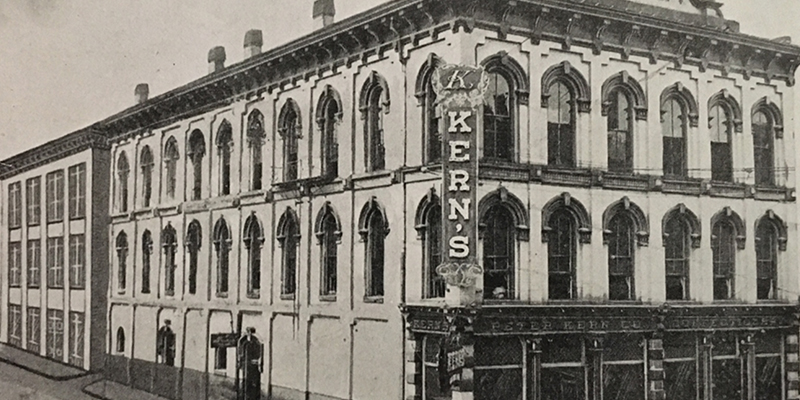 ULI Atlanta – Knoxville Tour of Kern's Bakery
ULI Atlanta – Knoxville Tour of Kern's Bakery
ULI Atlanta is a District Council of the Urban Land Institute (ULI). As the preeminent, multidisciplinary real estate forum, ULI is a nonprofit education and research group supported by its diverse, expert membership base.
Our mission is to shape the future of the built environment for transformative impact in communities worldwide.
ULI Atlanta has over 1,400 members throughout the Atlanta region and our broader geography which includes the entire state of Georgia and eastern Tennessee. ULI Atlanta is one of the largest and most active District Councils in the United States.
We bring together leaders from across the fields of real estate and land use policy to exchange best practices and serve community needs. We share knowledge through education, applied research, publishing, electronic media, events and programs:
• ULI Atlanta offers over 30 high-quality programs a year, including webinars and virtual meetings
• ULI Atlanta gives access to its resources and publications
• ULI Atlanta provides the annual forecast or trends research report
Our programs offer individuals and corporations the ability to get involved and participate in areas of interest to them that directly impacts their business or the future of their City:
• ULI Atlanta invites you to be a panelist
• ULI Atlanta wants you to participate in monthly programs
• ULI Atlanta asks that you join a committee, volunteer for UrbanPlan or TAPs
• ULI Atlanta knows you want to connect with your peers
Founded in 1936, ULI has grown to almost 45,000 members worldwide, representing the entire spectrum of land use and real estate development disciplines working in private enterprise and public service.
ULI does not lobby nor act as an advocate of any single industry. We examine land use issues, impartially report findings, and convene forums to find solutions to complex land use problems, collaborating with industry and stakeholder groups worldwide.
Kern's Bakery stands as a remarkable testament to time, blending historic charm with the vibrancy of the present, fostering a lively atmosphere of interaction and engagement for all visitors. Nestled in the New South Waterfront District, on the bustling Chapman Highway, and just a stone's throw away from the heartbeat of downtown Knoxville and the intellectual hub of the University of Tennessee, this expansive 16-acre innovative mixed-use community marks a dynamic extension of downtown and heralds a new era for South Knoxville's growth.
Breathing new life into the iconic 75,000-square foot historic bakery building, its transformation into a diverse community space is truly revolutionary. From a bustling food hall and market to the vibrant entertainment areas complete with a sprawling 7,000-square foot event lawn boasting a giant jumbotron screen, performance stages, and rooftop patios, Kern's Bakery is set to redefine the meaning of a dynamic destination in Knoxville.
A plateful of diversity for the adventurous
The Kern's Bakery Food Hall is a treasure trove of southern authenticity, paying homage to the South Knoxville landmark while introducing an irresistible blend of culinary treats and locally crafted goods. Our uniquely branded stalls serve up a delightful smorgasbord of flavors catering to the adventurous and the quality-focused goods to the refined. Visitors can immerse themselves in a rich array of local, independent, regional, and well-known brands in both dining and specialty retail, ensuring an eclectic experience like no other.
Kern's Food Hall Opening in Knoxville
Get ready Knoxville, because something exciting is coming your way soon! Kerns Food Hall is set to open its doors and we couldn't be more excited. This upscale hub will feature a variety of cuisines from some of the best chefs in town. Whether you're craving sushi, tacos, or pizza, there's something for everyone here. Plus, the sleek and vintage atmosphere makes it the perfect spot for a night out with friends or a romantic date night. So mark your calendars and get ready to experience the newest addition to Knoxville's food scene – Kerns Food Hall!
Meet the Developer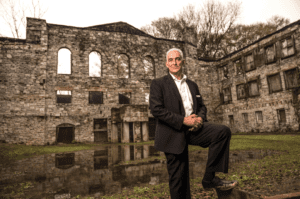 Alex Dominguez
Alex Dominguez is the Managing Partner of Four Stones Real Estate IMPACT.
From 1992-2018 Alex served as Senior Director of Real Estate at Chick-fil­-A where he was responsible for market strategy development, acquisitions, leasing, and strategic asset maximization. During his 26-year tenure, he led the national store rollout and supported the growth of Chick­-fil­-A from a regional chain to the third-largest US fast-food chain with over 2000 locations generating more than $10 billion in annual revenue — solidifying Chick-­fil­-A as one of the top most successful restaurant brands of all time. A 35-year commercial real estate veteran, Alex is also the founder and CEO of Region One Commercial, a real estate development company focused on value creation in experiential retail. As a Principal of Mallory & Evans Partners, LLC, he is leading the redevelopment of Kern's Bakery, a 75,000-square-foot, $80 million redevelopments of a historic landmark in Knoxville, Tennessee into a multi-phase, transformational, 16-acre community that includes multifamily apartments, specialty retail, locally-inspired restaurants, functional workspaces, captivating entertainment, and an boutique hotel. This redevelopment is the first mixed-use Opportunity Zone deal to close in Tennessee and one of the first in the United States. In addition to pursuing development opportunities, Alex applies his proven experience and creative, problem ­solving skill set to perpetuate social change through real estate development. His proficient deal acumen aligns federal and local governments as well as nonprofit organizations to create a "three­legged" stool resulting in a sturdy foundation for growth and social change, that incorporates for-profit ideas that generate perpetual cash flow for all. Alex currently serves on the Board of Bearings Bike Shop in Atlanta's West End neighborhood and is active in rebuilding this previously neglected community in collaboration with The City of Refuge, Antioch Baptist Church, The Salvation Army, Bearings Bike Shop, and other nonprofit organizations.
Meet the Real Estate Broker
Timothy Martin
Timothy contributes to all components of the real estate development process from over thirty years experience in Construction Project Management and Real Estate & Development.
Timothy's focus has been national growth representation for multiple restaurant brands, including but not limited to; Applebee's, Outback Steakhouse, Bonefish Grill, Fleming's Prime Steakhouse, Roy's Hawaiian, Carrabba's Italian Grill, Ruby Tuesday, Lime Fresh, World of Beer, Club 4 Fitness, Sharkey's Cuts for Kids, Eggspectation, Buddy's BBQ and others.
By combining the indepth construction experience, design and development knowledge with successful real estate deal making history, Timothy is able to apply all experiences to bring value-add to all clients and projects with TMA Real Estate. Timothy's unique position of services offered allows brands to navigate thru the challenging planning, growth and development process and can rely on Timothy to successfully complete each stage of brand growth from strategic planning to grand opening. Also, with experience and responsibilities across the entire United States, Timothy has built a solid national network of general contractors, architects, real estate brokers, brand executives, developers, shopping center owners, and real estate investors. Timothy has contributed to projects in almost every major geographical market in the United States.