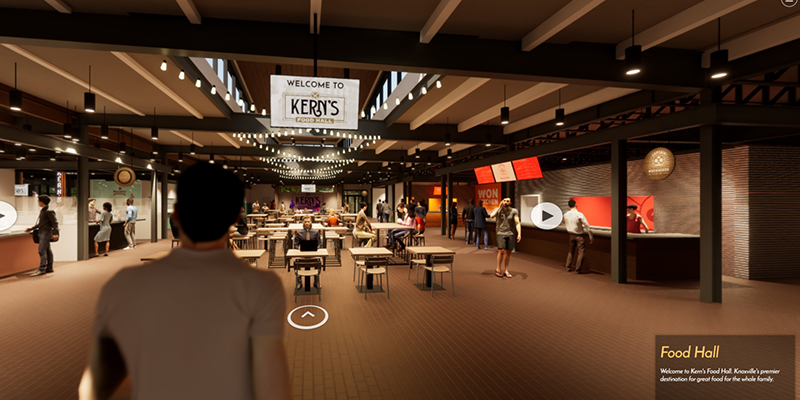 Kern's Bakery to Become Mixed-Use Development
Kern's Bakery to Become Mixed-Use Development
Opportunity Zone Redevelopment is One of the First in U.S.
Knoxville, Tenn. (May 30, 2019) – A new development team – Mallory & Evans Partners, LLC – has acquired the Kern's Bakery site in south Knoxville and will reinvigorate the area as a mixed-use redevelopment. The developer will preserve the historic building as a retail, restaurant, office and entertainment destination while adding 160 boutique-style apartments just steps away. A name-brand hotel is planned for a later stage of development.
The 16-acre development, which will be unlike anything else in the area, is designed to be both an attractive gathering spot and a great place to live. The plan to have residences, access to public transit and a location near one of the most extensive natural urban environments on the East Coast is intended to cement the legacy of Kern's Bakery as a functional and popular destination.
The principals of Mallory & Evans Partners are real estate veterans Brantley Basinger and Alex Dominguez.
"We are very sensitive to the nature of this historic site and feel the redevelopment fits perfectly into the long-term strategy of the South Waterfront Vision Plan," Basinger said. "This redevelopment is going to be another strong investment in the ongoing revitalization of South Knoxville, one we hope would make Mayor Kern proud. Plus, we have a vested interest in working with local parties who understand the dynamics of South Knoxville."
"We are very excited to have the opportunity to restore this amazing piece of Knoxville's history," added Dominguez. "We imagine the large bakery itself will house an eclectic, locally-sourced and highly-curated mix of restaurants, smaller food vendors, specialty purveyors and even collaborative office space."
One unique aspect of the new development is that it is one of the first deals in the nation to close in an opportunity zone. The opportunity zone program is designed to spur economic development and job growth in areas the U.S. Treasury Department has certified as needing reinvestment. Ozone Capital Management, LLC, which specializes in opportunity zone investments, is an equity partner for the multifamily component.
Phase I: Boutique Housing
The innovative apartment community represents a new type of housing with amenities designed to appeal to millennials and members of Generation Z – including young professionals, graduate students, medical students and upper classmen. The fully-furnished apartments will be a mix of one- and two-bedrooms with the latest smart-home technology. The two-bedrooms will have roommate floorplans with a private bath for each bedroom, and if needed, a roommate matching service. Amenities will include co-working spaces, a pool, fitness center, skyline views, a clubhouse and elevators.
"In building a wide variety of apartments, we have learned a lot about options that appeal to young people who want worry-free lifestyles as they embark on their adult lives," Basinger added. "The location will be perfect for people who want to be in the middle of things while enjoying a convenient lifestyle in walking distance to restaurants and entertainment, and nearby greenspace."
The redevelopment is near downtown, employers and other businesses and the University of Tennessee as well as the amazing trails and waterways of Knoxville's Urban Wilderness.
Phase II: Restaurants/Retailers/Offices
The team will redevelop the bakery building itself into a 75,000 square foot retail and restaurant destination with stores, kiosks, pop-up shops and open seating areas for socializing and listening to live music. The developers hope to add local establishments to preserve the unique flavor of the area.
Dominguez continues, "One of the things I'm most excited about is how we're going to connect the outdoor space we have available at The Bakery with the great work that Aslan Foundation, Legacy Parks Foundation and the G&O Railways have done building new trails between South Knoxville and Knoxville's Urban Wilderness."
Phase III: Hotel
In a later phase, the developers expect to add a brand-name limited-service hotel to serve out-of-town visitors and business travelers. Its location on Chapman Highway will offer a stunning view of the Knoxville skyline and immediate access to the dining and entertaining at Kern's Bakery.
Additional Details
Jimmy Ryan of Knoxville's Johnson Architecture Is the project designer. Fulghum, MacIndoe, and Associates, Inc.provides civil engineering services.The developer will seek a large number of local businesses to populate the retail component as well.
About Mallory & Evans Partners, LLC
Mallory & Evans Partners is leading the transformation of the historic Kern's Bakery building into an innovative mixed-use community in South Knoxville.  Its Principals Brantley Basinger and Alex Dominguez wield decades of collaborative commercial real estate experience.  Brantley Basinger, who is also principal of Mallory & Evans Development, has delivered nearly a dozen high-quality apartment communities throughout the Southeast.  His current responsibilities include multifamily development, acquisitions, capital procurement and debt sourcing.  As former Senior Director of Real Estate for Chick-fil-A, Alex Dominguez was responsible for helping the regional chain expand nationally and grow annual revenue from $300 million to over $10 billion to become the third largest quick service restaurant in the country.  Now, Alex pursues value creation in experiential retail as founder and CEO of Region One Commercial, a boutique real estate firm.  For more information, visit experiencekernsbakery.com.
Media Contacts:
Terri Thornton Terri@TerriThornton.com
Chad Youngblood Chad@SeeWhyConsulting.com