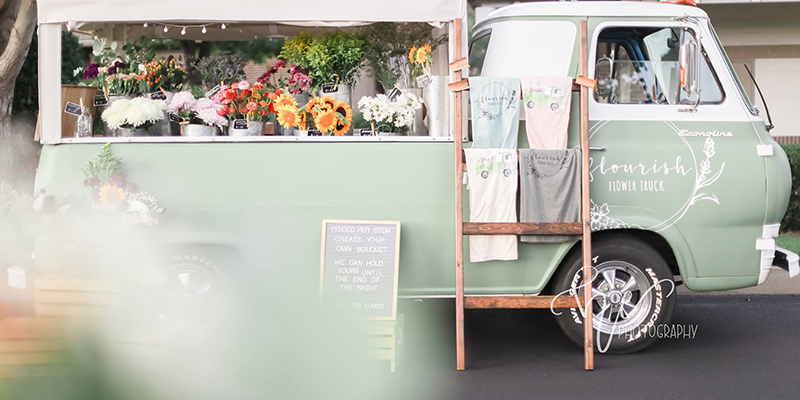 Flourish Flower Truck Coming to Kern's
Flourish Flower Truck Coming to Kern's
As featured on WVLT's website, local favorite, Flourish Flower Truck, is opening in our food hall!  Kern's Bakery will be the mobile truck's first storefront and we're delighted to support the growth of this thriving business.  Savannah's beautiful floral arrangements will be the perfect happy welcome into Kern's Bakery Food Hall.  Follow her online to be inspired by her unique creations.  And of course, share some love and give the gift of flowers!
Hi there! My name is Savannah and I am the owner of Flourish Flowers. This had been a dream of mine for awhile and thanks to the support and encouragement of my husband, Isaac, I decided to jump in and start my own business at the beginning of 2018. What started as an idea and a dream became a reality, and I am so thankful to be able to share it with you!
This whole thing started from a really tough place in my life. It seemed there were a lot more hard days than good days. This season of life challenged me to create something that could be used as a tangible glimpse of hope, love, and kindness in anyone's situation. I think flowers are able to do just that.
The heart behind the flower truck is to create opportunities for people to love themselves and those around them well! I believe we are made to enter into the lives of those around us, and with the gift of flowers we can both celebrate and grieve with others. I see so much beauty and so much good in these little creations and my hope is that you will too.
Get ready Knoxville, because something exciting is coming your way soon! Kerns Food Hall is set to open its doors and we couldn't be more excited. This upscale hub will feature a variety of cuisines from some of the best chefs in town. Whether you're craving sushi, tacos, or pizza, there's something for everyone here. Plus, the sleek and vintage atmosphere makes it the perfect spot for a night out with friends or a romantic date night. So mark your calendars and get ready to experience the newest addition to Knoxville's food scene – Kerns Food Hall!
Step right up and join the Kerns Food Hall family as a vendor! We welcome you with open arms to showcase your delectable cuisine at our bustling food hall. Imagine being surrounded by the aroma of various cuisines wafting through the air as patrons indulge in sensational bites from your food truck or boutique. Our upscale atmosphere is perfect for those looking for a night out on the town with friends or simply craving something delicious. With so many vendors sharing their unique creations, there's no better place to make waves and make a name for yourself than here at Kerns Food Hall. So what are you waiting for? Come be part of this exciting community today!